Welcome to the
Sheet Metal Workers Local 219 Website
Our goal is to provide the highest quality craftsman for the residential, commercial, and industrial construction industry. To do this, we are commited to offering a 5 year apprentice training program.When you choose one of our union members who have been through the training program, you can be assured of getting a highly trained professional, with the knowledge and skills needed to provide you with top quality craftsmanship.Sheet Metal Workers Local 219 was chartered September 27, 1909. We cover nine counties in Northwestern Illinois "Winnebago, Boone, DeKalb, Ogle, Lee, Carroll, Whiteside, Stephenson & JoDaviess Counties to Highway 78".
Event Calendar
Sun

Mon

Tue

Wed

Thu

Fri

Sat

November

November

November

November

November

1

2

3

4

5

6

7

8

9

10

11

12

13

14

15

16

17

18

19

20

21

22

23

24

25

26

27

28

29

30

31

January

January

January

January

January

January
Upcoming Events
Preamble
Realizing the advantage and necessity of cooperative effort properly and legally directed to fully develop and demonstrate the possibilities of our trade in the various field of industry and to protect our rights in connection therewith, we hereby pledge our united efforts and support as members of the Sheet Metal Workers' International Association to the accomplishment of said purpose
In this age of organized effort it is essential that those engaged at our trade must likewise organize in order to establish and maintain desirable working conditions and thus provide for themselves and their families that measure of comfort, happiness, and security to which every good citizen is entitled in return for his or her labor from a deep sense of pride in our trade, to give a fair day's work for a fair day's pay.
For reasons stated herewith, we adopt this Constitution and Ritual and pledge our support and allegiance to the Sheet Metal Workers' International Association of the United States and Canada, and as members thereof, we agree to be governed by the provisions, requirements, purpose and intent of this Constitution and all subsequent amendments thereto.
General Officers of the Sheet Metal Workers' International Association
NEW SMART Local 219 Merchandise
Shop SMART apparel and more at our online shop through Stars and Stripes. T-shirts, hats, tape loop holders, and more are still available for sale at The Hall. Click on the link below to shop online and order now!
SHOP NOW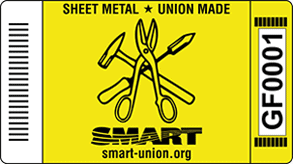 For jobs, wages and better pay. Learn more here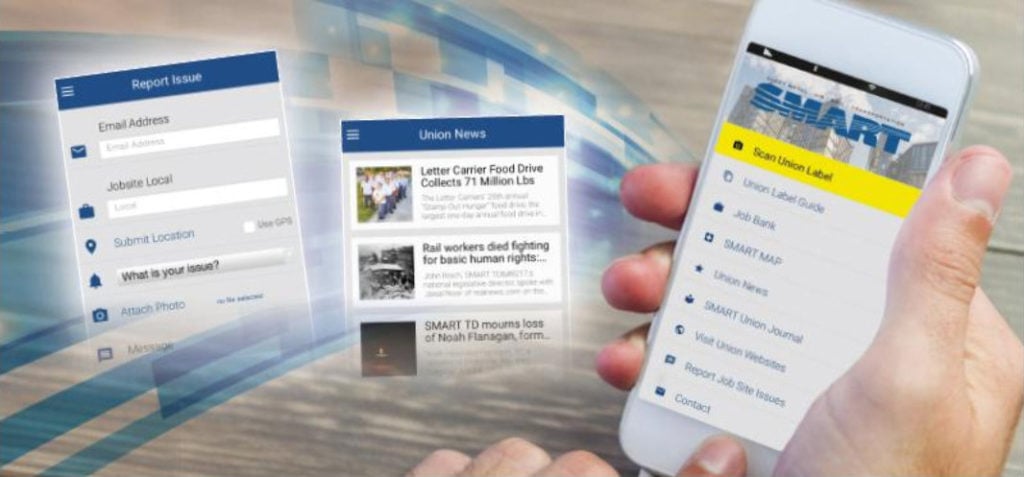 THE LABEL APP
PROTECTS & INFORMS
Union labels protect your jobs, wages, and benefits – and the label app makes it easy to scan them and report unlabeled product. But the app does much more.
Use the app to:
Read news you can use

in the Members' Journal and union news.

Report jobsite issues

on safety and nonunion workers or materials.

Check the Sheet Metal Job Bank

for opportunities nationwide.

Link to SMART sites

on training, benefits, and more.
It's the critical tool for protecting you and giving you information you want and need.
Contacts
3316 Publishers Dr
Rockford, IL 61109
Phone: 815.874.6641
Fax: 815.874.5182
Monday – Thursday 8am – 4:30pm
Friday 8am – 4pm
Sat. & Sun. CLOSED